Scarlet - Super Shiny Smother Heaven MESMERIZE 4K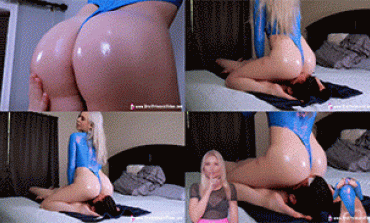 This clip is really meant for advanced ass addict gooners.  Novice ass addicts or lesser gooners can still enjoy this clip since it is edited in movements.  In the first movement, a submissive male locked in chastity rubs oil on Scarlett Rhoades amazing ass.  The hopeless submissive knows this ass will be smothering his face soon.  The submissive male is locked tight in chastity.  It knows its only purpose is as a content slave.  The submissive male has his chastity teased with Scarlet's amazing shiny ass.  The dumb submissive male has to take it. 
The submissive male is brought to a bed and is then used for face sitting content.  Time passes very slow for a submissive male under a bubble butt.  The next several movements are shown in dreamy slow motion ass Scarlet generates her content.  She rubs herself all over the submissive's face and bounces on its face.  During the clip there are numerous Brat Princess audio and video cut-ins encouraging the gooner to jerk it.  This will deepen your submissive tendencies and increase your addiction to femdom.  The video and audio cut-ins are educational in nature and help a submissive male understand the feelings it has about itself.  The clip moves to a very rhythmic drum beat with teasing.  A submissive beta male can really get his goon on during this section.  Try and keep the beat!  Really jerk it and stroke like the girls tell you to.  Remember you are not a man!  This is sex for you!  The clip has a cum countdown with all the humiliation you need as a submissive male.  The last movement is in normal speed and it shows how time passed for Scarlet!
Who will like this clip?  Ass addicts, face sitting fans, mesmerize fans, advance gooners, and gooners who are trying to be better, and even beta's locked in chastity can find some enjoyment.  If you are locked in chastity you can watch this clip and get an idea what life is like as a Brat Princess Video content slave.  If you just like facesitting you can always just turn down the volume and enjoy it as well.  Try and keep the audio on and listen to our words.  Let our poison fill your brain!