BP – Slave Edged by Bossy Bratty Bitches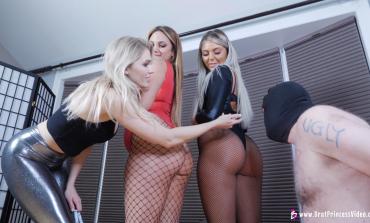 REMEMBER TO VOTE IN OUR POLLS PLEASE!!!
Info -> New Polls
Amber, Ava and Nika are key holders. They have their slave locked up as ALWAYS. He has a stupid fucking mask on cause hes so damn ugly. He is a mutt. On his knees he begs for the key so he can be free. But he must work for it! BARK YOU MUTT!!!!!!!! He keeps saying please til the girls finally budge and watch him struggle to take off chastity. They are only allowing it because they want to have fun. They make him stroke his cock and play red light green light. Flaunting their beautiful asses and tits right in his face and making bringing him right to the edge. PURE ENTERTAINMENT FOR US PRINCESSES! Making him so desperate, watching him become weaker and weaker. That's what he gets. AGONY. He better not stop stroking and he better not cum! They yell at him, slap his face and write on him with marker nasty words so he feels even more dominated. They put him through a brutal stroking game. He can't hold back the cum but he knows he can't or they will punish him. He will never. EVER. EVER. CUM.