Ava and Kaylie - Brats Ball Bust Fat Loser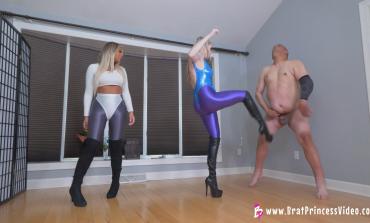 If you love mean bratty hot girls in tight shiny leggings with powerful sexy boots you will LOVE this clip. This clip is for loser idiots who get off on watching girls destroy balls. You know your balls are useless. You don't need them. Every beta should get their nuts pulverized. We hate them. And we probably hate you too. We don't care if we knock you to the ground while your eyes tear up. Its fun for us. So shut up and take it.
I added a bonus commercial at the end of clip!