Amber - Simp Boy Tribute and Foot Training (Part 1 of 2)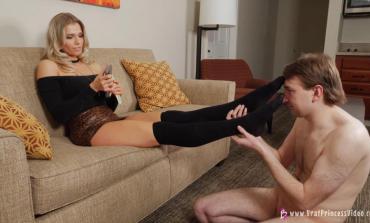 Amber's new simp boy is doing great for her!  First week as her keyholder and she took $300 quick from him.  So fun and so easy.  Boy is nervous around girls.  He is so frustrated that I wear his key around my neck and take his money.  This was his first tribute ceremony!   I taught boy how I like my tribute presented to me.  He got to lick my shoes clean!  No release this week for boy.  I want to see what I am working with before I get him on a edging schedule.  Boy smells my smelly socks and licks my shoes clean.  This will further put him in his place.  I will let him get use to the $300 per week drain before I raise it on him.  I really plan to get as much out of boy as possible this year.  He is a poor college kid and makes extraordinarily little and has just a tiny amount after I take my tribute. A lot less than an older sugar dummy male.  Boy is an investment.  He is such a nerd, he will probably get a very good job after college. That is when I plan to get a bigger payoff!  Sock sniffing and heel licking is what boy gets to do in this clip.
After only ONE WEEK of keyholding, Amber's new simp boy's chastity key, he's already handed over $300! It's honestly soooo easy to take money from this boy! He's always so nervous around girls that he often forgets how to speak! HAHAHA It makes it even funnier when she takes his money because he's too shy to try and negotiate. Amber tries really hard to make him squirm. She exerts her dominance over him by wearing his chastity key around her neck. He's always glancing at it, as if he has hope that she will someday let him out LOL. You can totally see his frustration tho when she dangles the key in his face….. taunting and teasing him. During his first tribute ceremony, Amber taught boy how she likes her tributes presented to her. He even got to lick her shoes clean! She needs to see what she is working with before she gets him on an edging schedule, so obviously he's not getting a release! Instead, boy gets to smell her smelly socks and feet. This will put him further in his place. Amber will let him get used to the $300 per week drain before she will randomly raise it on him… he'll have no idea when it's coming! Amber is really planning for the long term: get as much money out of boy as possible. Just a poor college student, barely able to live off the little extra money he has after Amber takes her cut. However, this nerd is an investment. Amber knows that he will eventually get a good paying job, and a much bigger payoff awaits Her!